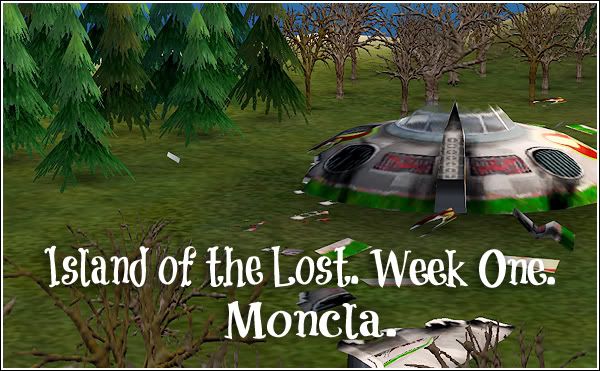 Meet the Settlers
Here we go again, another family in the BACC...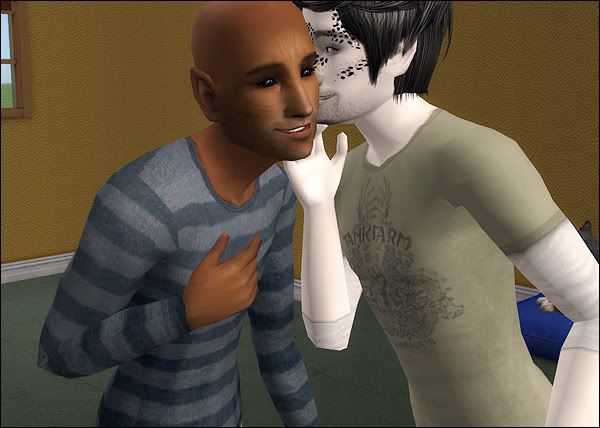 Felix and Robert seem to be getting along just fine, none the worse for wear...
(Of course, who knows what exactly they've been through.)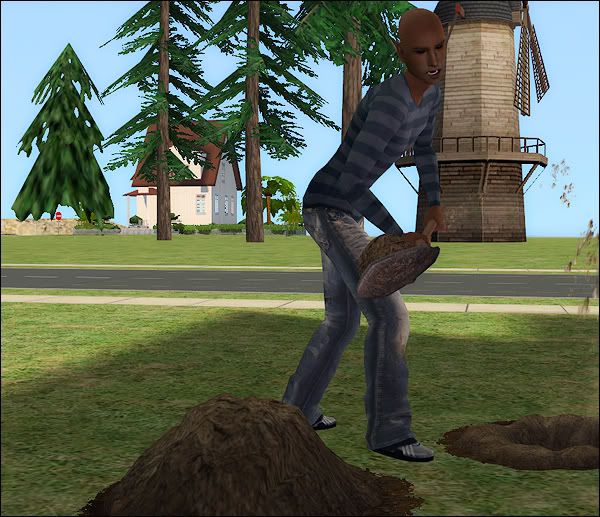 Yep, this round is starting out exactly the same!
(Of course, they all have to try to make money in some fashion.)



(I'm beginning to wonder if there is any treasure around, because I certainly haven't been able to find much.)

...

And next on the list of things to do...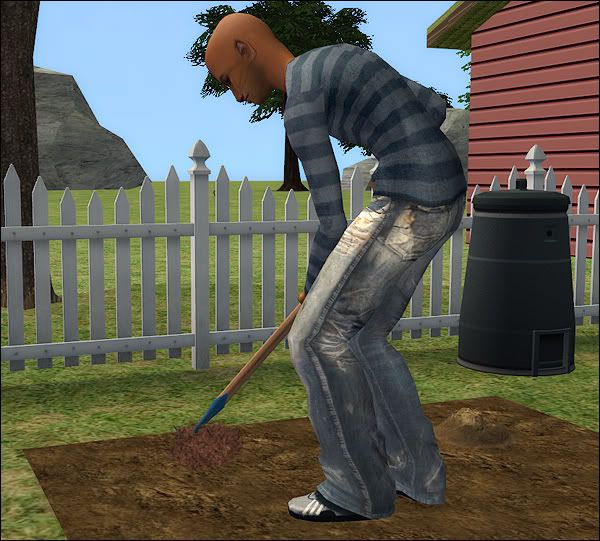 ...because everyone needs food and I just like the pictures!

...

Before I forget, Robert and Felix aren't living alone...


This is their dog, Hessie.

...



Hessie is one smart pooch.

...

Okay, so not much happened on day one, but there are necessary evils...


Raking up those pesky leaves is one of those 'necessary evils'.

...



Keeping those weeds in check...




...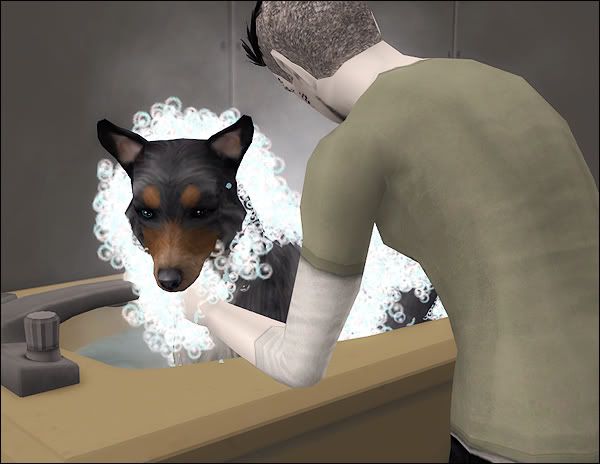 Keeping the dog clean, yet more things that have to get done.

...

There is time for a little bit of fun...


Tummy rubs are always a good way to have a good time!

...



Free-Styling is another fun thing to do, when there is no other forms of entertainment.
(Too bad there weren't people around, so Robert could make some money with tips.)

...



Oh and I certainly can't forget, hunting for aliens!
(Maybe Felix wants to go back with the 'little green' men...)

...

Early the next morning, Felix found 'Baron' walking by the house...


(Yep, same cute little doggie from a previous update. He certainly gets around!)

...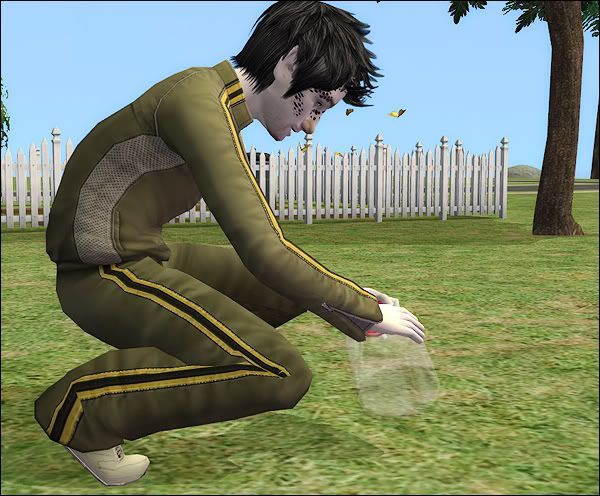 Robert out hunting for some bugs...maybe he'll find one worth millions!
(Oh, I apologize for the changing hair on Robert, I kinda forgot the order of the pictures.)

...

Since I have a household with two strong men, they both could go to work...


(Much faster way to get through the gardening tasks for the day.)

...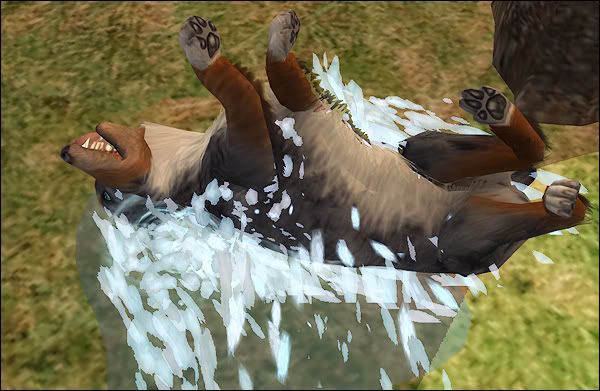 Hessie finding some fun of her own...

...



Oh jeez, the household has been overrun with cockroaches...



(And they are everywhere! I don't think I will ever get rid of them all.)

At least while Felix was outside, trying to get rid of the bugs, Jean walked by...


Things started out pretty good...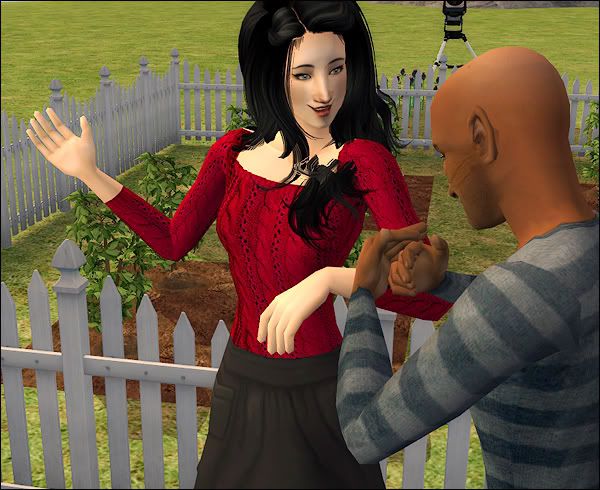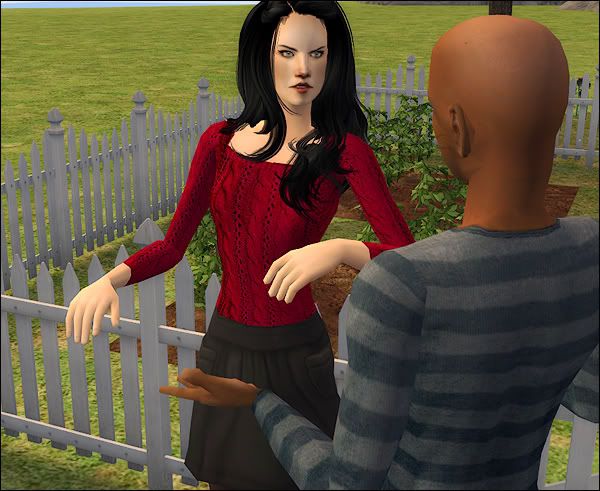 And then things crashed and burned!
(I think Jean is only interested in men that she shouldn't have a relationship with.)

...

While Felix was getting yelled at by Jean, Robert was getting screamed at by D.B...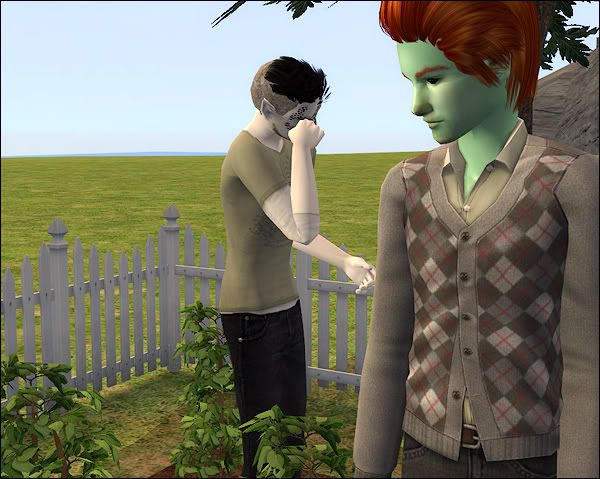 (Apparently, Robert was looking through the telescope and D.B. was not happy. But at least now we have someone that is furious! Very close to unlocking another career.)

...

And the bad luck continues...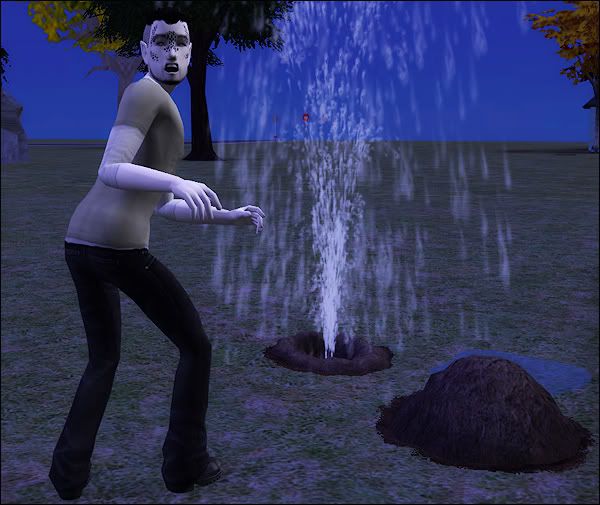 Poor Robert was not happy!

...

Late night in the garden...


(I think someone needs some sleep!)

...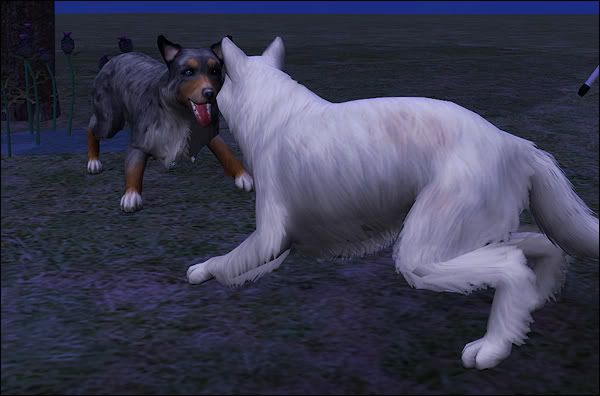 Hessie making a new friend!
...

So the next day started like any other, until...


Felix was turned into a plantsim!
(I swear, I played TS2 for how long and I never got a plantsim. Now I've played for less then a month and I have two in the same neighborhood!)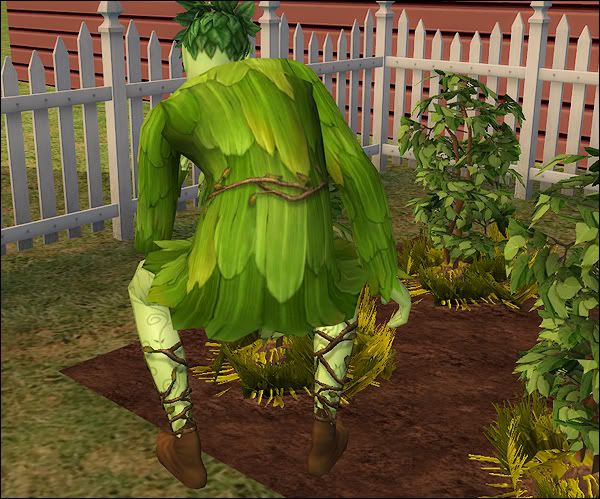 Felix seems pretty unfazed by the whole thing. (He just went right back to working in the garden.)

Now Robert decided this would be a good time to let Felix know his true feelings...


Robert has had quite the crush on Felix!



Felix seemed a little bashful and surprised at first, but he came around to the idea rather quickly.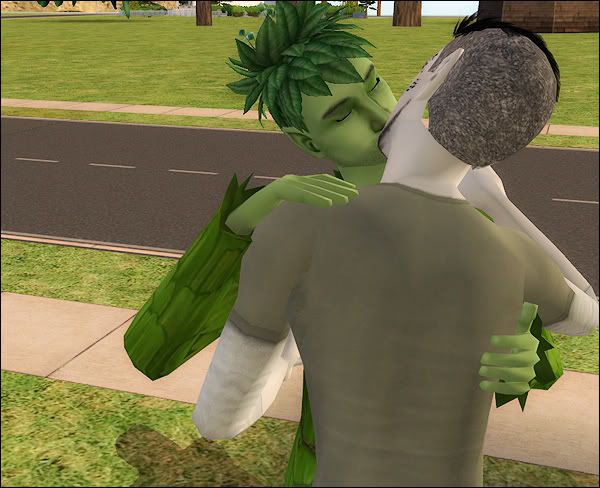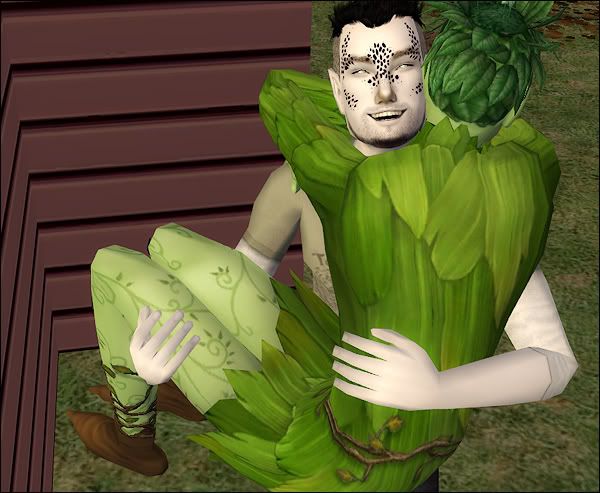 They seem quite happy together!

...

Now, I've never had a plantsim baby either, so I figured why not...


Felix let his spores (or whatever) go and they produced...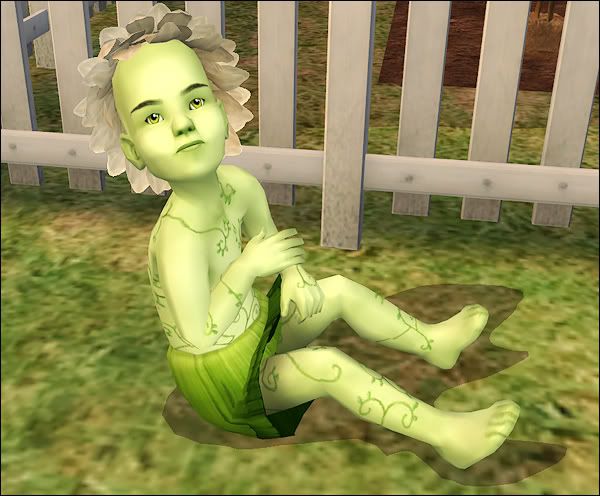 Little Percival!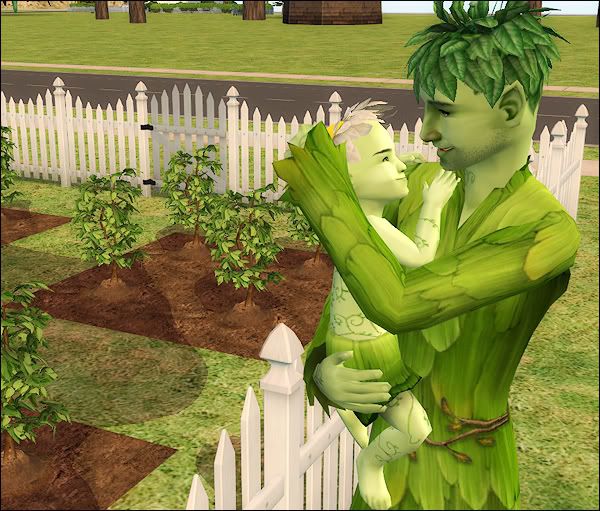 Felix is certainly a proud father!

Of course you can't blame him, Percival is rather cute...


(There shall be much Percival spam now!)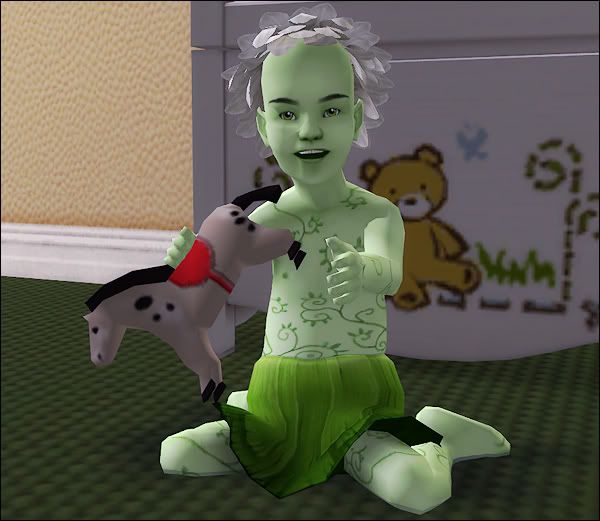 (I just couldn't help myself, I thought he was just too cute.)

...



Felix taking the time to teach Percival some lullabies...



Robert even stepped in to help care for Percival.

...

Finally, time to harvest the plants!


(Just in time too, the weather was about to change!)

...

Awww...poor Robert caught the flu.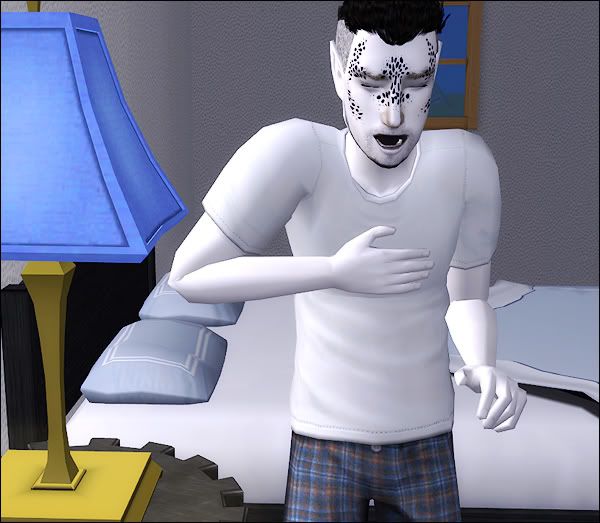 (Now if only he could have passed that illness on to two other sims...
No such luck, though.)

...

Can you believe, there was finally snow in my game!?!? It certainly took long enough...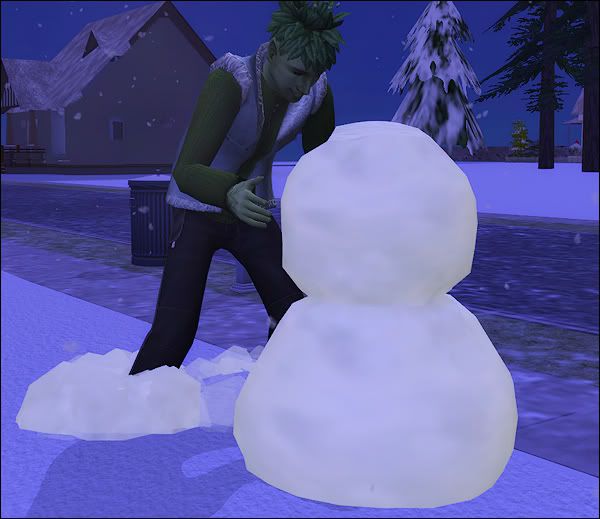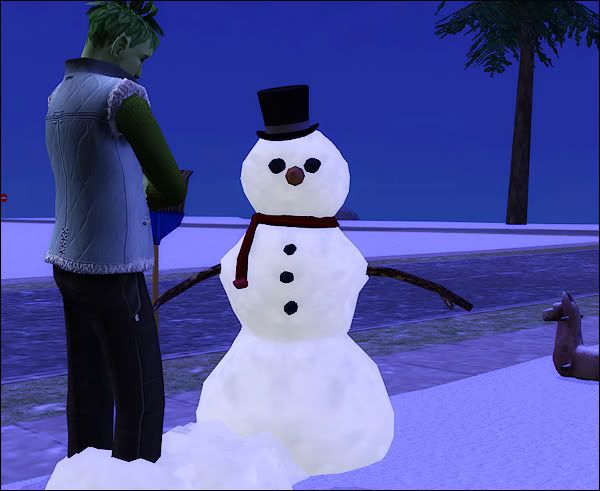 (What a cute little snowman! I didn't realize how much I missed seasons, until now!)

...



Yippee, Robert has mastered the art of couples counseling!

And that folks is where I will have to leave you for now!
I hope you enjoyed the update...
And, there is only one update left to go and the first week will be done! (I'm pretty excited!)
Notion:
sleepy